You were looking for the best cloud storage and we advised you. Now we want to provide you with THE ultimate test of the best online storage, in our humble opinion.
We are sure that you already know what cloud storage is and why do you need it. In short – to free up computer storage, to free up the phone storage, to have all your files everywhere you go, to have all your music everywhere and anytime and most of all – to keep the data safe from any harm. With pCloud, you can have that storage until the end of your life, as they are one of the very few proposing a Lifetime plan.
Examining one of the best cloud storage providers on the market, pCloud.
A not-so-young Swiss company, created in 2013, pCloud had lately become one of the best cloud storage providers on the market. They offer several products, designated for individual, family, and small business usage. Some of them are offered with a very innovative price plan, the Lifetime plan, where you pay once and keep using for your lifetime, even longer. At the part of the pricing, we would explain how and why the Lifetime plan could actually work for you. We would as well go in deep with the functionalities and the usage on your desktop computer, mobile phone, and web platform.
It will be a very long article. Please be patient or use the menu here below if you look for specific information. As it should be THE ultimate test of the best online storage, it should be long. We will as well place here and there our focus key phrase "pCloud – The ultimate test of the best online storage", as we want to pop in your search results.
Now, after this short introduction, we can start.
pCloud – storage, plans and pricing
pCloud divides the products offered into three different areas – individual, family, and business usage. You can use them as you wish, of course, having a Family or Business plan just for yourself, for example.
Individual plan – pCloud Basic
You can use pCloud absolutely for free, with a maximum storage of up to 10 GB. On the subscription, you get 2 GB, then you can complete several easy steps and each one gives you 1 GB. On the email address verification, you get your first 1 GB. Then you get one for downloading and installing the desktop app, then one for the mobile app, one for turning on the automatic backup of your phone photos, and so on. When you get to 8 GB, you have to invite two email addresses (real or fake ones) and when they create an account, you both get 1 GB to your storage quota.
With pCloud Basic, you get 50 GB traffic as well for your download links and 15 days of account and trash bin history. You can try it for free with this link.
Individual plans – Premium and Premium Plus
pCloud Premium plan offers 500 GB of storage, 500 GB of sharing traffic, 30 days of account and trash bin history, which you can pay as a monthly, annual or Lifetime subscription. Monthly – 4.99/month, annual – 49.99/year or Lifetime – 175 EUR or USD.
pCloud Premium Plus plan offers 2 TB of storage and sharing traffic, 30 days of account and trash bin history for 9.99/month, 99.99/year or 350/Lifetime.
What do you get with these plans? Mainly, you get storage and traffic, when you want to share with someone else, using download or upload links. When you have a file or folder in your storage, you can send a link to someone who does not have a pCloud account. Alternatively, you can create an empty folder and send a link to it to someone who can upload files there via a web browser. That generates traffic and it is renovated every 30 days. Therefore, with the pCloud Premium plan, you can send or receive up to 500 GB per month by using links. The other way, which does not generate traffic, is to have your recipient create a free pCloud account on the same hosting location as yours. That way, you can send and receive an unlimited amount of data, to the maximum storage limits of your account.
pCloud Premium Custom – 4 TB of storage for 700/Lifetime – that's available only after you get your 2 TB and then you have to write to the support to get the additional 2 TB. That's the total of 4 TB, which you can get for a total of 700 and use it the whole your life.
Individual paid add-on – Extended File History
With a basic and free pCloud account you get 15 days of account history. That means you can delete files, which go to your pCloud Trash Bin, and you have 15 days to recover them. As your trash bin doesn't count against your storage quota, it's a charge of pCloud and they try to limit the number of files that you keep in your trash bin. Therefore, if you do not recover the deleted files from the trash bin, in 15 days they are gone forever.
They are gone forever as well if you empty (purge) the Trash bin.
You can as well have files and folders recovered to a previous state, with the functionalities Rewind and File Versioning, with the same delay as for the file recovery from the trash bin
With Premium and Premium Plus plans, the delay for recovery of modified or deleted files and folders raises up to 30 days.
There is one paid add-on, which extends the recovery up to 365 days – the extended file history. There is a price for that – 39.99/year or 3.99/month. If you consider that you would need to go back in time and verify existing data 5 months back, the price is not that big. As well, if something goes wrong and your folder structure is completely messed up, you can restore the previous one just with five clicks.
pCloud Family – storage for your family or small business
There is one other plan, which can be useful to your family or the small Business. pCloud Family offers 2 or 4 TB of storage for a maximum of 5 users. Those users can be your family members or business associates, pCloud does not care about that. All they need is an email address that is used to create an account. The account owner, the so-called Father, the one who pays, is then distributing the storage as he wishes. The Father can keep 1 TB for himself and then divide the other 1 TB between the users.
The price is only in Lifetime, no monthly or annual plans – 2 TB = 500 USD/EUR, you pay double for 4 TB.
pCloud Business – secure online storage for your small or average business
This storage plan provides`1 TB per user for a minimum of three users, up to a zillion. The price is easily calculated, based on the number of users – 9.99/user/month or 95.88/user/year.
For an account with 3 users, you will get a total of 3 TB and 6 TB of traffic. The account and trash bin history here is extended to 180 days. You get as well the client-side encryption pCloud Crypto, which we will describe in the next chapter.
You can try pCloud Business for 30 days free and you will get a personal adviser, an account manager from pCloud, who is going to satisfy all your specific needs. If you need more storage with not so many users, he is the person who is going to set that up for you. As well, if you need a video presentation – that's again him. This is one of the very few services offering so personal attention to their customers and that is well appreciated.
pCloud – security features and server location
Security Features of the pCloud storage
First and included in each plan – is the Two-Factor Authentication. You can choose how you want to authenticate your device – with a code, which you receive via SMS or using Google Authenticator.
Email verification – it might seem simple, but no one can create and keep a pCloud account with your email address if it is not verified. If not verified, each account is deleted in 15 days, no matter if it is paid or not.
Rest data encryption and secured transfer channels – pCloud uses SSL/TPS channels to transfer the data from your device to the servers. As well, all data structures and the servers are encrypted with 256-bits AES encryption, one of the best on the market.
If this is not enough, pCloud offers a paid add-on – pCloud Crypto. This is a digital safe, client-side encryption where each file that you place in the Crypto folder is encrypted and transferred to the servers, starting from your device. The Crypto folder is encrypted with a Crypto Pass and you're the only owner of it. pCloud employees cannot reset the Crypto Pass and if you forget it, the Crypto folder should be erased and reset for the security of your data. That creates a digital safe on your computer and even if a hacker or virus gets control over your computer, your data will be safe with pCloud and you can access it from any other device.
Speaking of hackers – pCloud had offered several years ago 100 000 USD to the one person who can get inside the Crypto folder of one account. For 6 months no one could do it:
(others might not know that, but we are writing THE pCloud-ultimate test of the best online storage)
Server locations – separated servers for better privacy
pCloud offers two data centers for hosting your data – one in the United States and one in Luxembourg, the European Union. You can choose one or the other and they are not interconnected. That means your data is safe if you are a European citizen and some American agency wants to get access to your account.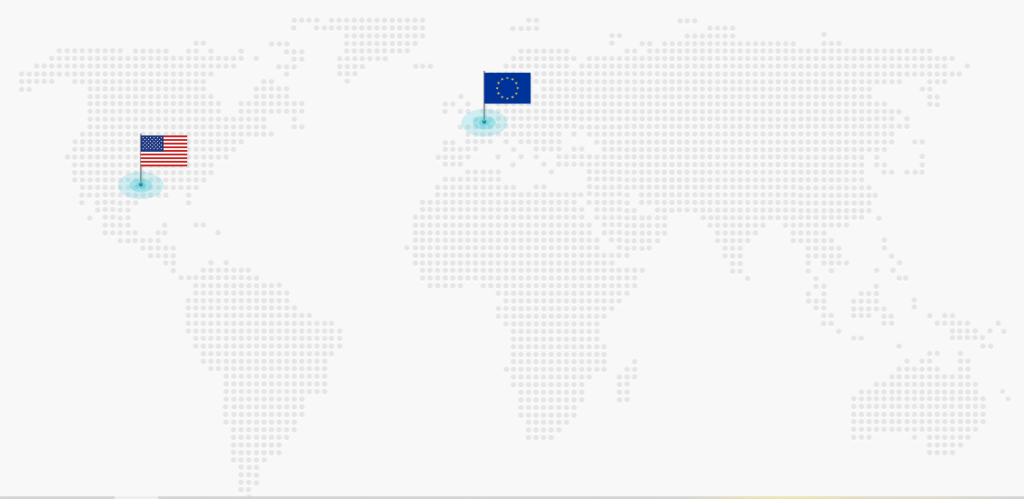 Together with the server locations comes the GDPR compliance. Being a Swiss company and having a data center in the EU, pCloud is complying with GDPR as each European company.
The data centers used by pCloud have been chosen after intense risk assessment to prove the highest quality and reliability. All providers are certified under SSAE 18 SOC 2 Type II & SSAE 16 SOC 2 Type II and comply with the highest level of physical and technical security applications, such as:
Multi-tier: Tier II, Tier III and Tier IV
Enhanced connectivity: 10+ providers
Electromagnetic protection concept
Fire and very early smoke detection (VESDA)
Neutral gas (nitrogen) fire suppression system
24/7/365 on-site security with controlled access
pCloud Web platform in your web browser
You can use the services of pCloud on any browser – Google Chrome, Mozilla Firefox, Microsoft Edge, Safari, or Opera. The usage is basically the same but there are some upload limitations imposed by several browsers. We will be trying the service on Google Chrome, as we consider it with the least limitations.
We consider that pCloud's web platform provides a very simple-to-use interface.
On the left side menu, you have all the features, and on the top-right, under your initials, you have a drop-down menu with all the preferences of your account.
Features – left-side menu.
Files – as easy as it can be
In the Files menu, you have several sub-features. When you click on Browse, you'll get in the list of your folders and files. If you need to search for something, there is the search possibility, on the top of the list.
This is the place to upload files or whole folders. The folder upload works on Chrome and Edge but does not work on Firefox and Safari, which is a browser limitation. You can as well order the files and folders alphabetically or historically.
Sharing folders and files with anyone
One of the most useful features – sharing folders and files, with people without an account or with pCloud users. You have two ways to share a folder: with a download link or with a shared folder.
Download link: chose the file, click on the button on the right or a right-click. Then in the options, chose Share > Share link. You will get multiple useful options for this folder sharing. You can create a password and expiry date. You can choose if the other person can download or just preview the files in the web browser. You can even choose how it looks on his browser, by adding an image, background, and message. You can as well create a short link, share it via email or social media channels and you can delete it when not needed anymore.
The other person does not need a pCloud account for receiving, downloading, and previewing the files. Some of the options are not available for Basic users.
Shared folder: You can invite to the folder any other pCloud user. That means the other person needs to have an account and it has to be in the same data regions as yours. If you are hosted in the EU data center, the other person should be hosted in the same one. For each shared folder, you can choose the mode – view only or edit. When the person is in "view only" mode, the files are still downloadable, but the person cannot upload modified files. That means the authorization is on the folder, not on the files themselves.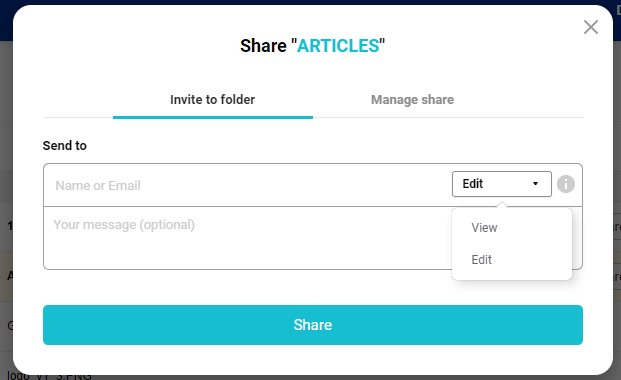 Advanced Search and File versioning
You can search by name and file type or you can search within the documents, as an extended text search. Each search will give you all the saved versions of each file. For example – if you had uploaded a document a week ago, and you had modified and saved it 3 times, in the list of search results you will have 3 files, with the date of each saved version.
Public folder – source for your blogs
The purpose of this folder is to be a source of data for external usage. For example, if you have a blog or a static website- you can host all your images and presentations on your pCloud storage and just place links to them in the HTML of your blog.
Rewind – the history of your account.
Same as Time machine for macOS, Rewind helps you restore deleted data, in the condition that the Trash Bin was not purged. You can simply choose a date and time that you want to restore your account to and click on the Rewind button. It will not replace the actual data, do not worry about that. The restored data will be first shown on the screen, as it was on the selected date. Then you can choose which folders you want to restore and when you select them, by clicking on "RESTORE" they will go to one default folder, named "REWIND".
Once there, they will occupy space in your storage, so be wise – select and restore, then get what you need and delete what you do not need. It will not be pCloud fault if you restore 450GB and then keep them in this folder.
Remark: Rewind can go back depending on your plan type – 15 days back for the free accounts, 30 days back for Premium and Family, 180 days back with pCloud Business, and 365 days back if you had bought the Extended File History.
Trash Bin – do not purge it.
Simply do not empty your Trash Bin. If you do it, you will not be able to find any version of the files, nor to restore folders with Rewind. Just let pCloud do the purging and do not forget – the deleted files do not stay there forever. It is best if you subscribe for Extended File history, and you get the 365 days history of the account. For 39 bucks, it is not that expensive if you would like to go back in time.
All this is part of "pCloud – The ultimate test of the best online storage"
Backups – you can back up everything
This, actually, is true – you can backup all your computers, all your cellphones, and even your other storage accounts, like Google, Dropbox, and even Facebook.
Desktop backup
You can backup each folder on your computer, automatically, without any limitation of size (except the size of your pCloud storage). How it works:
1. Download and install pCloud Drive
pCloud Drive is available for Windows, macOS and Linux. Download the app and follow the installation instructions.
2. Start your backup
Right-click the pCloud icon in the system tray and click Backup. Check the folders you would like to back up or add others. Click "Back up" to finish.
Then, in your folder list, you will see the folder "Backups" with a separate folder for each computer you had backed up. You can backup all the computers you have. Easy, isn't it?
Mobile backup
You can automatically (or almost) backup the photos or videos of your mobile phone. All you need is to install the mobile app, connect to your account, and start the automatic upload. You can as well choose which folders you want to backup – DCIM (Camera), WhatsApp, Viber, Messenger, and so on.
During our test, we got that the automatic upload sometimes stops. It usually happens when you switch from Wi-Fi to a mobile network. All you need is it stop and start the service and it will work again. A bit annoying and we hope the pCloud will find a fix for this bug.
Third-party backup – even for Google Photos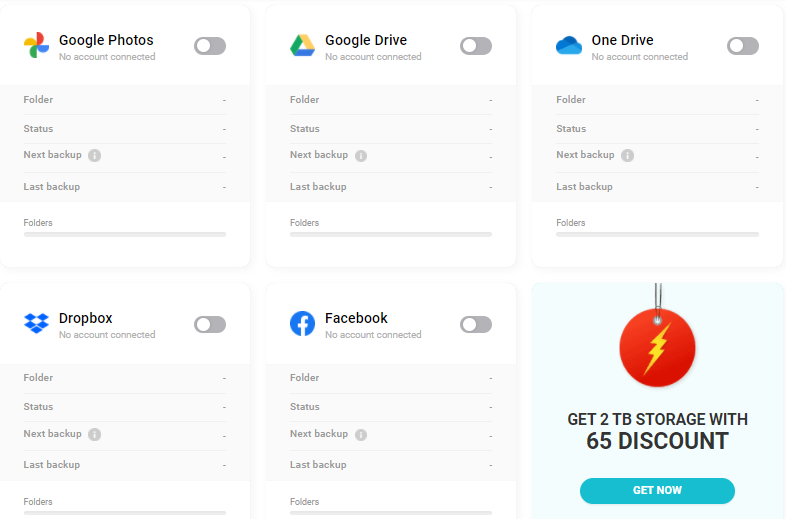 That is what we liked most. You can connect your pCloud account to your Google account and, after authorizing it in your Google account, it will go and get automatically your photos from your Google account. So, no need to pay a subscription to Google for that – you can get better, more secure storage, with bigger volume and actually cheaper and you can back up the photos from your Google account and then delete the oldest ones.
Backup as well Google Drive, OneDrive, Dropbox, and Facebook, automatically every 28 days (14 days for Facebook). When we first started using a pCloud account, they were offering a backup for Instagram, but then it had been taken offline. We really hope to see it again as an option.
Crypto Folder – your digital safe
As explained above, that is the folder where only you have access. You can create a CryptoPass and a hint for that password. Then everything you place there will be for your eyes only.
Do not forget that Crypto password, as it cannot be reset. If you need to reset it, the entire Crypto folder and the content will be deleted and the folder will be re-created. You can access that digital safe box from your computer via the file explorer (like Windows Explorer or Finder), via web browser and as well you can access it from your mobile devices in the pCloud app.
Shared – a list of everything you had shared
It is well organized into two sections – one for the shared folders and one for the links that you had created. It really helps if you share a lot, with links and folders. Here you can manage the access for the shared folders and modify the setting for the shared links, as well the personalization of the download links that you had created.
File requests – your secure mailbox
One more option, which might be as well included above with the sharing option. You can create an empty folder and then you can send a link to this folder to any person, with or without a pCloud account. The creation of the link to the folder is easy, in the same menu as the creation of the shared link. You can limit the upload to this folder as size and you can set the expiry date.
We find it useful – instead of asking for important documents by email, you can just send a link to a folder in your account and your client or Business partner can simply upload everything requested without the limitations of the mailbox and with more security.
Audio Player – all your music in one place
This is an integrated player, which finds all music files in your storage and you can choose what you want to see by the name of the song, the artist, album, or previously created playlists.
Settings – drop-down menu
This is the menu that you have on the top right corner. A bit hidden, in our opinion, but with so many options on the left it would be very difficult to place the setting there as well.
What can you find in those settings? Almost everything.
Manage your subscriptions
This is the first option if you have a subscription. There you can stop and add subscriptions and modify your payment card.
Account settings
This is basically everything about your account – the email address, the region where your account is hosted, you can modify the email address, the language of your interface and you can delete your account.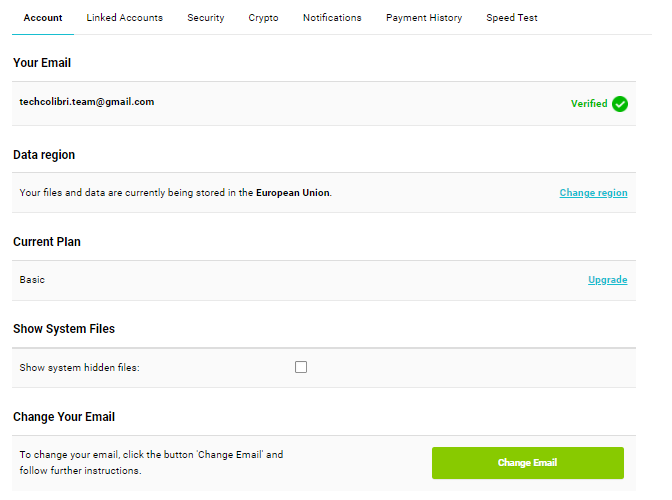 Linked accounts
… if you had linked some account for backup, for example. As well, if you had connected with your Google ID or Apple ID, here you can find the setting and unlink it if needed.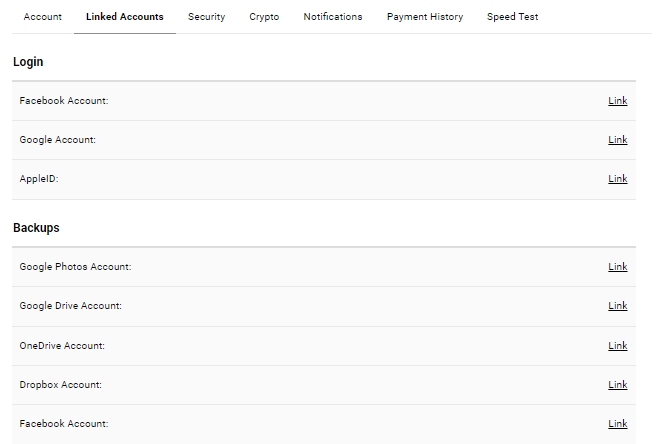 Security settings
…where you set your two-factor authentication and where you modify the password for the account. This is the place as well where you can see all the authorized devices and you can revoke the authorization for each device from here.
The notifications and emails
that pCloud sends to you – as well here. You can choose what to receive and what not. Actually, you can unsubscribe from almost everything, but the account activity notifications.
Invoice and payments
This is the only place where you can insert your data if you need an invoice. There are two options – an invoice and a payment receipt. If you need an invoice, you might need to hurry up, as they are limited in time.
Speed test
If you are wondering why the upload is so slow or how fast do you download from your pCloud account – this is the place. The tool measures your real-time connection with the servers where your account is hosted.
Please note that it depends a lot on the bandwidth you have and the usage of the Internet from the other apps on your device. The results may vary, as it measures the connectivity connection with one single API of pCloud. It might be a good idea to check it several times, as there might be some temporary issues with one API and not with others. Your account is linked in a chain with all the APIs of pCloud, but the measurement takes into count only one connection.
All this is part of "pCloud – The ultimate test of the best online storage"
pCloud for your Desktop computer – Windows, Mac or Linux.
You can have the desktop app pCloud Drive free. No need to pay for using it even if you have a free account. The download of the app is in the header of the website pCloud and at the same place on the web platform My pCloud. When you click on the button, the page will automatically detect your Operating System and will show you the download options.
Once you download it, you can install it like any other software. Take note here, that if you want to install it on a different partition than the default one (usually your disk C://), you have the option to do it on the screen where you accept the Terms and Conditions of pCloud.
Once you install the pDrive, you have a new virtual drive mounted in your File Explorer. It takes by default the letter P, and that can't be modified. It is a very handy option, as you can work with your online files directly on your computer, as they are part of it. It does not take almost any local space and provides many features directly from the contextual menu. At the end of this part of the review, we will explain the particularities.
Please note that on macOS you will have to enable the virtual drive, as it is not automatically mounted. To do this, you'll have to allow the pCloud extension in your Security settings, with three clicks basically.
The software is pretty much the same in all the operating systems. On macOS, there are slight differences in the menu options and where you click, but it is not affecting the usability. We are going to review the app on Windows, but we promise you that it is all the same as the other OS.
The SETTINGS of pCloud Drive.
For those of you that like to know how it works in-depth, we're happy to provide a complete guide on the settings in the control panel of the app pCloud Drive. In the second part, we will show how it works directly on your desktop file explorer.
pCloud Drive control panel – tab Account
You can open the Control panel of pCloud Drive by clicking on the icon on your Desktop or, if you do not have an icon there, next to the clock (at the bottom-right side of your screen). You can find the small blue-cloud icon, right-click > preferences.
In the first tab, Account, you can see the general information: your subscription, how much storage had you used, and how much is in total. You can invite friends from there or upgrade your subscription. That is as well the place to modify your password, to open the virtual drive, or to go on the My pCloud platform.
Very important option there – Unlink (the account). That helps when you have some synchronization issues between the device and the storage servers. Unlinking the account is reestablishing the database on your machine.
pCloud Drive control panel – tab Backup
It is an easy way to set an automated backup of the computer. You have the main folders with checkboxes and you can choose to backup some other folders as well. Once you set the backup, it is automated in real-time. You cannot set a date and time for the backup. Everything you do in the backed-up folders is replicated in the backup online in your account. If you delete something, it will be deleted as well. The only way to stop this automated backup and to keep the actual state of these folders is to stop the backup and, if you want, start a new one. Please keep in mind that it will take more storage.
You will have a default folder created in your account, containing a sub-folder with the name of your machine.
You can not share the files or folders of your backup. That's a limitation we don't like. The only way to share that data is to stop the backup or to use Sync instead of Backup.
You can stop the backup folder by folder, no need to stop it in general. Pay attention – if you delete a file or folder on your computer OR on your pCloud online storage, it will disappear on the other end.
You can as well set a backup directly from the contextual menu of your File Explorer. Just right-click on the local folder and select "Backup this folder".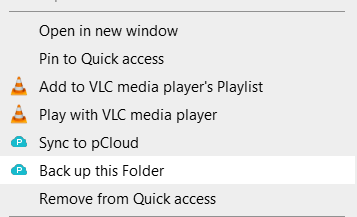 pCloud Drive control panel – tab Sync
Better option for us is pCloud Sync – it synchronizes bidirectionally a local folder on your computer and a folder on your online storage.
When you click on "Add New Sync", a small pop-up window appears and you can choose the source and the destination of this synchronization.
Please remember: the synchronization is BI-DIRECTIONAL! It means that each modification you make at one end of the sync replicates on the other. If you delete a folder at one end, it will be deleted at the other. Good news – it does not disappear from your account and you can find it in the Trash Bin of your pCloud account, on My pCloud.
That is something missing in all other reviews that we read, but it will be a part of our pCloud-ultimate test of the best online storage.
You can as well set a synchronization directly from the contextual menu of your File Explorer. Just right-click on the local folder and select "Sync to pCloud".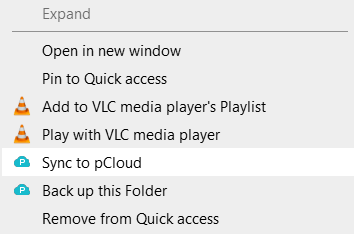 All this is part of "pCloud – The ultimate test of the best online storage"
pCloud Drive control panel – tab Shares
We showed previously how to share from My pCloud. You can do the same in pCloud Drive.
It is the same with pCloud Drive, even easier – you have the button to invite to Folder and then all the information listed below. You can check what you had shared, with whom; you can check as well what was shared with you, the download links that you had created, and the bookmarks – the download links that other people had sent you.
Sharing with pCloud directly from your file explorer is as well easy. All you have to do is to find the folder in your pCloud Drive, right-click to open the contextual menu and then chose the way to share. You can create and copy the link or invite to the folder. Easy, right?
All this is part of "pCloud – The ultimate test of the best online storage"
pCloud Drive control panel – tab File requests
Same as above, you can share a link to a folder only to request files from someone. You can do it from the Control panel and you can directly create a link from your file explorer.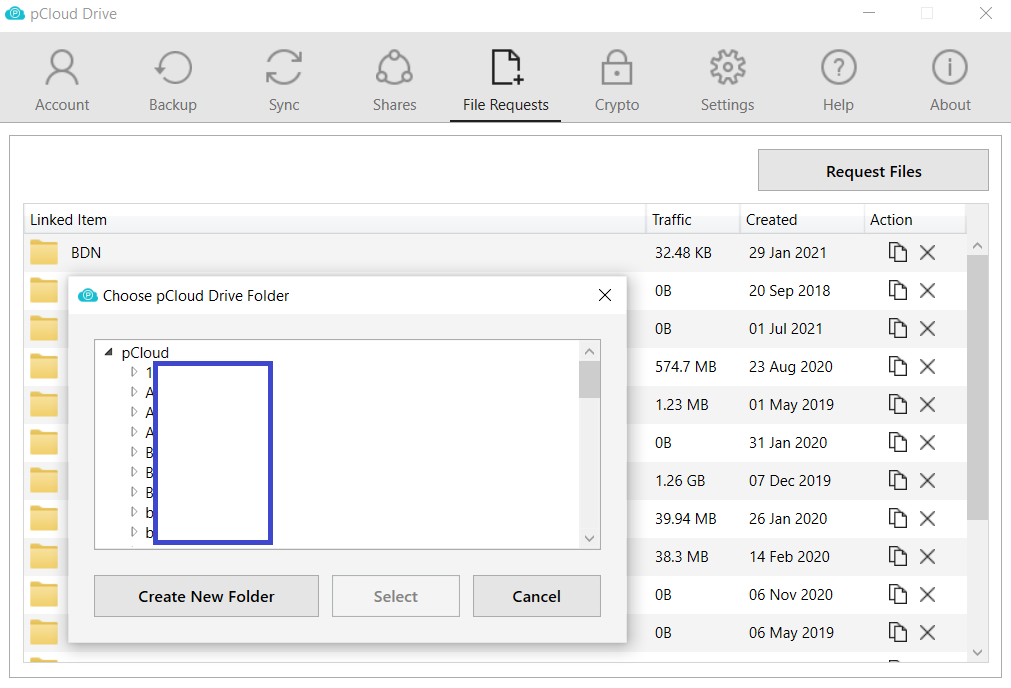 pCloud Drive control panel – tab Crypto
The folder named Crypto is your digital safe. It has a secondary password, which should be more difficult (more characters) and different from your account password.
As previously explained, each file that you place in the Crypto folder is encrypted directly from your computer /device. That does not mean the other content is not protected – it is, but the files themselves are not encrypted.
You can lock/unlock the Crypto folder from the Control panel of pCloud Drive or directly from the contextual menu.
All this is part of "pCloud – The ultimate test of the best online storage"
pCloud Drive control panel – tab Settings
That is the interesting part of pCloud Drive. You can set up a lot with pCloud Drive, but there are some small features missing – for example, to set up the drive letter.
However, this is what you can do with pCloud Drive :
You can directly upload the screenshots – when you hit the button PrtScr (Print screen), you can directly send the screenshot in your pCloud Drive, the folder Screenshots. As well the action copies a link to the file and you can paste it in an email or chat that you're typing
You can set the control panel of pCloud Drive in 4 different languages – English, French, Spanish and German.
You can set up the bandwidth usage for pCloud Drive – it can take the whole connection bandwidth or you can set up a limit.
There is the Cache usage, which you can set up as well.
All this is part of "pCloud – The ultimate test of the best online storage"
What is cache and how does it work with pCloud Drive?
The cache is what others call "a buffer memory used". In the case of pCloud Drive, it's the internal storage used. When you install pCloud Drive, it is installed within a local folder, where the app keeps the settings and where all recent files are being downloaded. When you open a folder, all the content is "cached" (downloaded in compressed version) in this Cache folder. That is being used to reduce the time of download from the server when you open it next time. As well, a good feature, when you lose Internet connection, the content of your pCloud Drive does not simply disappear. You are still able to see the whole content and to open and work with the recently opened files. All the modifications are as well kept in the cache folder and are uploaded when you get back your connection.
In this way, pCloud keeps your data available and uses some local memory. You can decide how much space you want to allocate to this folder – the bigger it is, the more data it keeps.
You can choose the cache folder location not only during the installation but also after the install. In the screenshot above, we showed you the default location of the cache folder.
ONE MORE VERY IMPORTANT usage of the cache folder! As this is THE pCloud-ultimate test of the best online storage.
It serves as a buffer memory when you copy data to pCloud Drive directly. Let's say that you copy from your external drive 200 GB of files directly to pCloud Drive. You see that the copy bar goes right, the files are copied and you can see them in pCloud Drive. However, are they uploaded directly to the servers in those few seconds? Absolutely NOT.
The files are first copied in the cache folder and from there they are uploaded to the servers. That is the only way to keep the data intact during the whole transfer. That makes the cache folder expand the limits that you had set and you will see the free storage of the local drive will be reduced temporarily. After the transfer completes, the cache folder will get back to the normal size set. If it does not, you can use the button "Clear cache". It will only function if everything is uploaded to the servers of pCloud.
Please take note of the above and DO NOT copy in pCloud Drive more data than your free space on the local drive, where the cache folder is. It will use all the free space and can cause a slowdown of your device; it can even block it for lack of free space to run the OS. A better option, when you have a lot of data to upload – use the Sync feature. With pCloud Sync the data goes directly to the servers and is not copied in the cache folder.
How do I transfer data from an external drive to pCloud?
Here is the moment to explain how to copy from an external hard drive to synchronize it to the servers of pCloud.
Simply do not copy. Create a pCloud Sync. Do not disconnect the external drive until the synchronization is done and you have stopped it. We showed you how to add and stop a Sync from the control panel – 1. Add the sync with the external drive. 2. Wait until it is saying "everything is uploaded/downloaded" at the bottom of the control panel. 3. Stop the sync. 4. Now you can disconnect the external drive.
Please note that it is preferable not to let the computer go to sleep or hibernate – if pCloud Drive doesn't see the content of the source (the external hard drive), it can decide that somehow it's deleted so that the program will do the same – delete the content. Do not panic – it will not vanish. It will go in the Trash Bin on My pCloud, and you can restore it from there.
There is nothing to worry about and no need to call the support of pCloud in the middle of the night – all the data is accessible and can be restored from your Trash Bin.
Before that happens, simply set your computer to not fall asleep until the synchronization of your big data between the external hard drive and the server. And DO NOT DISCONNECT IT!
After explaining the usage of the Cache folder, there are a few settings left to explain:
You can set up how Crypto folder is being locked /unlocked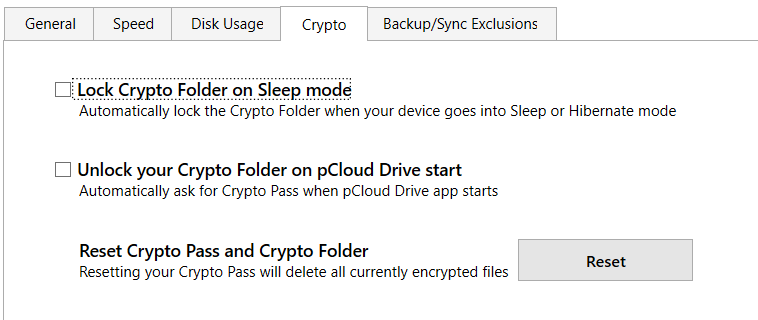 You can as well which folders are being excluded from the Sync and Backup. By default, the app excludes folders that are being constantly modified by the system, especially the Program Files.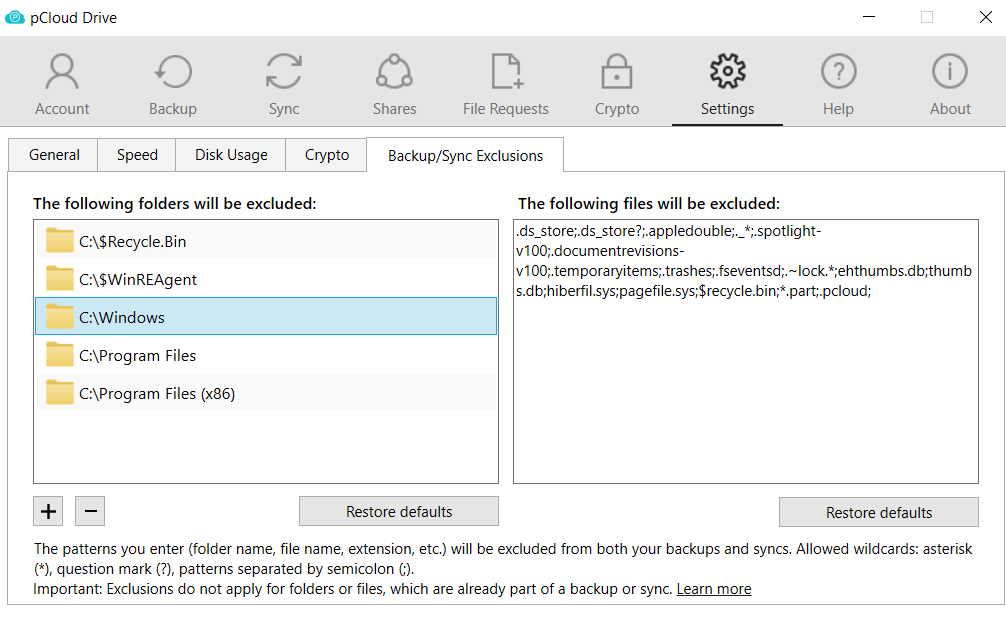 So, that is – we have finished with the part of the settings of pCloud Drive. A bit long and exhausting reading, but there are some people who need information on how it works and there is very limited information online on that topic.
How do you like The ultimate test of the best online storage so far? Now, let's get to the essentials (as a Part of our pCloud-ultimate test of the best online storage) …
USAGE of pCloud Drive on your desktop computer
pCloud Drive installs very easily on your computer. You download it, you start the installer, you accept the T&C and you're done. You have it integrated into your System File Explorer on Windows and Linux. For macOS, you need to activate the drive after the installation, in order to integrate it in Finder. Depending on your macOS version, you might be prompted to allow the extension PCLOUD LTD in your Settings or to download the extension macFuSE , a software package that will let you use any third-party FUSE file system, such as pCloud Drive. You might even already have it w/o knowing it.
Once installed and integrated, pCloud Drive shows as a system drive, with the letter P:\
If that letter is occupied in the system startup, pCloud Drive will take the next one available. Unfortunately, you cannot assign a different letter and that might be a small issue if you have another system/network drive with that letter. The best to do in that case is to assign a different letter to your other drive, as you cannot do it with your pCloud Drive.
You have all the cloud-hosted content available in your pCloud Drive. It shows as a mirror of your cloud and will be shown even if you lose internet connection, thanks to the cache folder. The folder and file structure information is kept in the cache folder and you can work with most of your recently open files. However, if there is a big file that you had not opened recently and you do not have an internet connection, you will not be able to open it until you connect.
You have almost all necessary features available in your pCloud Drive within the contextual menu (right-click button).
You can share folders – that feature opens a menu where you can type the email address of the person you want to share with
You can create a download link – that opens the pop-up to setup the download link OR directly copies the download link and you can paste it somewhere else.
You can Request files – that create an upload link, that you can paste somewhere else.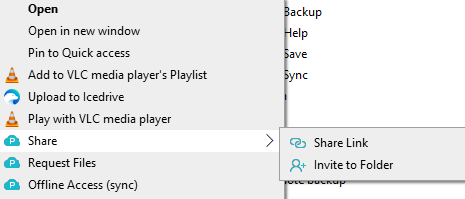 Offline access (Sync) : As explained above, that feature creates a connection between a local folder (on the computer) and the servers of pCloud. That means all the files will be at the same time on your computer and in your pDrive. You will be able to modify them locally and the modification will be synchronized to the cloud. If you do not have Internet connection that will be the most secure way to have the files available.
Please note: the files will occupy space in the local storage, so if you synchronize a very big folder (several GB), that folder will use the local storage – if you have a shortage of local storage please be careful of what you synchronize.
However, if you delete something in the local synchronized folder it will be deleted as well online but the files will be kept in the online trash bin of pCloud, accessible via the web platform my.pcloud.com. They will be kept there 15 days for the free accounts, 30 days for Premium and Family accounts and 365 days if you have an individual account (free, premium or family) and you had paid for the extended file history. The Business plans/accounts have 180 days of trash bin history and can not have the paid add-on Extended File History. After this period, each deleted file will disappear from the Trash Bin as well.
pCloud for your mobile device
The app of pCloud is available for iOS and Android devices, and you can download it directly from the App Store. You can see and use your files directly from your smartphone or tablet. All you have to do is download the app, install it and connect to your account. All your folders and files will appear.
How to use the files in pCloud mobile app?
Most of the files can be open directly from the app, with your default mobile app. For example, if you want to open a Word file, the phone will ask which app you want to use to open the file. However, if you want to save it, there is a trick. If you try to save it directly after modification, it will be saved on the phone. To save it directly to pCloud, you should do the following:
Use the "share to" feature of the app
In the list of the apps find Save to pCloud
Find the folder you want to save it to and hit "select/share"
Automatic Upload to pCloud
At this very moment, the app uploads automatically only image and video files. You can choose which folders on the phone you want to monitor. All the content of those folders will be uploaded to a default folder Automatic Upload but it will not keep the folder structure and all the files will be uploaded in bulk, so if you want to have them organized you need to do it manually and regularly.
The Automatic Upload is not as good as one of Google Photos or iCloud photos. It is meant to upload to files when you connect to the home WIFI network but you can set it up to use mobile data as well. However, even with this setting, you need to open the app in order to start the upload. You don't have to select files, but you have to open the app in most cases.
There is no Sync feature for other types of files, folder to folder, as you have it in the desktop app. That is something no one else will tell you but we do, as it is a part of our pCloud-ultimate test of the best online storage
Free up device storage with pCloud app
Once you had uploaded your media files, you can delete them securely by using the integrated feature in the app. It will delete ONLY the files that had been stored in pCloud.
Offline files
When you choose to have some files or folders offline, the app will download them in the cache and you can use them without using your mobile data. That means you don't have to worry about the internet connection when you need those files. If you delete the cache, however, you will delete those files as well from the cache and you will be able to see them only with the connection.
Password lock for pCloud mobile app
If you want to secure your pCloud data, you can choose to have a four-digit password lock, which will be needed to unlock the app. So far there is no fingerprint unlock.
All this is part of "pCloud – The ultimate test of the best online storage"
Conclusion and additional information
That "pCloud-ultimate test of the best online storage" was possible after long usage of the service. We won't hide that we had used pCloud for a while and we had encountered some problems but as well a lot of nice features. We had communicated a lot with the Support Team of pCloud in order to clarify and resolve some issues. We can include all that in the article, but we consider that we had covered the general usage and everything else will be a single-case scenario. We will answer each question you might have personally, just drop us a comment on the article or send us a message via our Facebook page. We will try to resolve your doubts and answer your questions in the most honest way.
Now, why is it the best solution in the Cloud storage market, on our opinion?
It is all a game of PROs and CONs.
Each cloud storage has advantages and some disadvantages. pCloud handles everything in a very smooth way, you have enhanced security and most of all – a very good lifetime price. There might be slightly better providers if we put them in the same payment plan.
For what you pay monthly, we would be not so 100% sure about choosing pCloud as the best one. With the Lifetime plan, however, they rank very high. There is a very user-friendly web platform, choice of storage of your data, great data-sharing features, great encryption (and better if you pay for Crypto). The desktop apps run very well on all OS platforms and include many of the features that you have on the web platform. The mobile app is almost great, there are a few features that we miss but surely we can live without them. Overall, for the price that you pay, equal to 3 years of monthly installments, you get a lot for future usage. The point is – pay it now, use it for more than 3 years, up to 99.
For those who are afraid to invest that much, we have some advice – try it for several months and check if that is what you were looking for. pCloud offers a lifetime plan since the summer of 2017 and they are still here, even getting bigger and better. Their business plan seems very promising – they use the lifetime plan as a base to step on for future development and they do it good. We had seen a new data center open in the summer of 2020, many new features developed since 2017, and much more to come.
We hope that you are happy with that pCloud ultimate test of the best online storage on the market.
That will be our closing line:
pCloud invests in the future, would you?
All this is part of "pCloud – The ultimate test of the best online storage"
If you feel like giving a try to pCloud, you can CLICK HERE TO GET IT